Create your own storage cloud
---
You don't have to worry about your data!
Automated backup and immediate restoration of saved data.¹
MODEL
CPU
RAM
DISK SPACE
SPEED
PRICE/month
PRICE/monthANNUAL PAYMENT
You get a 10% discount on the displayed prices using the discount code STORE10 on the first purchase.
High-performance and scalable storage solution for your needs
Synology RackStation is specially designed for those businesses that want an efficient and centralized data manager. Chroot provides Synology-based storage solutions hosted in the data center and with fast access to both national and external networks.

Read more about the

Chroot infrastructure

Reading performance
Over 1,621 MB/s sequential read performance ²
Scalability
Up to 32TB of raw space or 16TB of RAID10 ³
Built for quality services

Synology RackStation is not just a simple storage system. You can host and share files, install additional applications, VPN server and even share files within the company. With the system provided by Synology you can even create your own NVR (Network Video Recorder) to which you can connect the surveillance cameras¹.

¹ Requires an additional license, the license for up to 2 rooms is included free of charge.
Next-generation file system for better data protection
The Btrfs file system introduces advanced storage technologies and optimized snapshots to prevent data corruption and reduce maintenance costs. While ensuring high-level data integrity, it also provides flexible, effective data protection and recovery tools.


Flexible control and sharing of resources depending on the user and the desired space for allocation.

Snapshot replication can be programmed and provides data protection and storage capacity, with 1,024 backups of shared folders and 65,000 system-level snapshots

Restoring data at the file or folder level makes data recovery flexible and fast.

Automatic file self-healing detects and recovers corrupted files without user intervention
The Perfect Backup Solution
Synology RackStation integrates a variety of backup applications in an intuitive interface, providing durable storage technologies to protect your valuable data on any device.

Active Backup for Business
Active Backup centralizes backup tasks for VMware, Windows, Microsoft 365, and G Suite – so you can manage these backups on your Synology NAS from a single simple console.

Hyper Backup
Make a comprehensive backup of your data to a locally shared folder, external device, other Synology NAS, rsync server, or public cloud to ensure data security.

Drive Package
Protect your computer with Synology Drive Client. Easily back up your data in real time, recover and reinstall any lost files in record time and effortlessly.
Real-time collaboration on your private cloud
Synology Office is a collaboration package that combines the convenience and usability of the public cloud with the privacy and security of the private cloud. Allows seamless collaboration on documents and spreadsheets in a secure environment.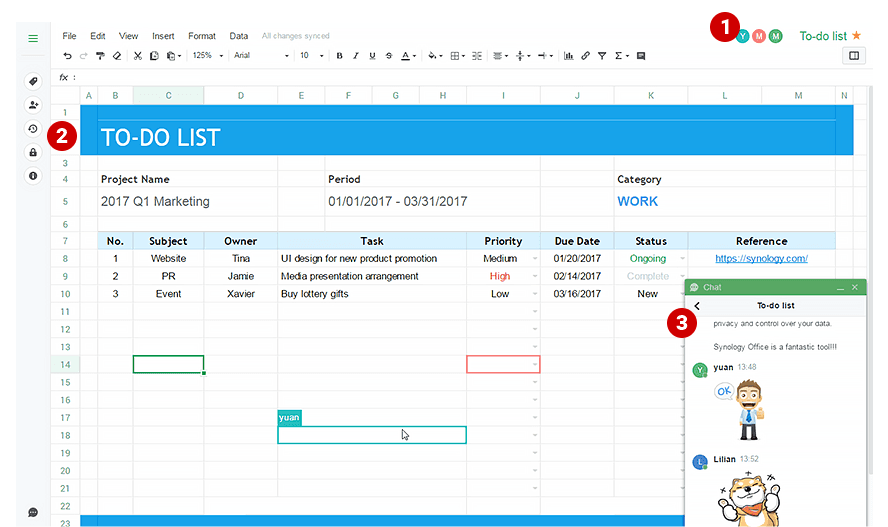 Real-time collaboration on the same documents online to increase productivity

Version control to navigate through all changes and download previous versions with just one click

Instant communication on Synology Chat while editing documents or spreadsheets

RAID ( Redundant Array of Independent Disks or Redundant Array of Inexpensive Disks ) is a combination of several HDDs or SSDs that aims to either increase read / write speeds or data protection, or even a combination of the two.
| | |
| --- | --- |
| RAID0 | Merge disks to get the most out of your space and write and read. It does not provide data protection. |
| RAID1 | Identical data writing on all disks, poor use of allocated space. Provides the best data protection. |
| RAID5 | Efficient data distribution across all disks. Provides better redundancy than RAID 1. |
| RAID6 | Implements two levels of data parity. Provides better redundancy than RAID 5. |
| RAID10 | Provides the combined performance of RAID 1 and RAID 0. Provides good data protection. |